At HALO Precision Diagnostics and HALO Breast Care Center, your medical information is important. Our goal is to make the process of requesting records as simple as possible.
Process for Requests
Fill out the appropriate form below. Then, return it to use in one of these ways:
Fax the form to (530) 879-4661
Email the form to

[email protected]

Hand deliver the form to us at 1720 Esplanade, Chico, CA 95926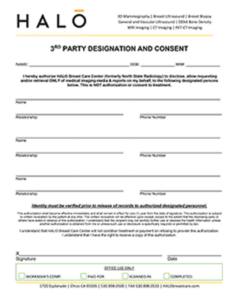 Use this form if someone other than you will be picking up your records from us.
Records You Can Request
The following are examples of documents we can provide. Each may consist of multiple pages. Medical records from other hospitals should be requested from those organizations.
Imaging reports – Mammography, Ultrasound, Bone Density (DEXA)
Lab reports
Pathology reports
Patient Portal Access – Request an account for the iConnect Portal. You can view your medical records and request information to be sent to you.
Contact information
If you have general questions about accessing your medical records, please call us at (530) 898-0500, Monday Through Friday from 8:00am-4:00pm.
Or mail your request to:
HALO Precision Diagnostics
HALO Breast Care Center
C/O Medical Records
1720 Esplanade
Chico, CA 95926